Discovering Barcode Blood Bands
5 April 2019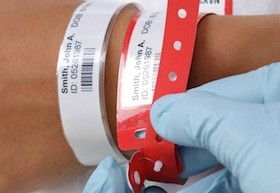 Ensuring that a patient always receives the accurate blood product is a very difficult process and needs to be error-free. To ensure the patient's safety, hospitals around the world have been using the barcode blood band, which ensures that the correct blood goes to the right patient - greatly reducing any chance of human error.
In this blog post, we discover what exactly the barcode blood band is, the different types and how the band contributes to patients' safety.
What is a Barcode Blood Band?
The most common system for conducting safe blood transfusion process found within the hospital facilities is Typenex. The system uses a wristband with a unique identification code wearable by a patient, along with the same peel-off label placed on the blood-sample tube and the blood-product requisition. Each band includes a blood bank identification number (BBID), which helps to identify the specimen and makes sure that the blood goes to the intended recipient. The barcode can also be easily scanned into a Laboratory Information System (LIMS) in order to avoid transcription errors and to save a technician time.
At Lorne Labs, we offer several types of barcode blood bands, including:
Slim Band ™ (Handwritten)
Checkdigit ™ (Band and Form)
Barcode Plus ™ (Label)
Barcode Plus ™ (Handwritten)
Flexi 2.1 ™ (Band and Form)
Original ™ (Blood Band)
Barcode Plus ™ (Condensed)
The blood transfusion process explained
Blood is an expensive and precious resource when it comes to the world of healthcare and medicine, but blood transfusions in many cases may be life-saving.
An enormous 8,000 units of blood are used in transfusions every day in the UK alone.
The transfusion process involves taking blood from a donor and transferring it into a patient's body through a vein.
Blood transfusion can be required in the following scenarios:
To replace blood lost during major surgery, childbirth or severe accidents
To treat anaemia that has failed to respond to other treatments (anaemia is a condition where a person has low levels of red blood cells)
To treat inherited blood disorders, such as thalassemia or sickie cell anaemia
To treat other diseases such as cancer, infection or a liver problem
As there is no substitute for blood, the blood supply used for transfusion must be donated. In 2017/18 there were over 478,762 new blood donation registrations in the United Kingdom - the highest in the last four years.

Source: NHS
Ensuring safety with Barcode Blood Bands
Safely conducted blood transfusions are of the upmost importance. Concerns in the UK that patients undergoing transfusions were receiving the wrong blood led to the formation of the Serious Hazards of Transfusion (SHOT) haemovigilance scheme in 1996, to monitor adverse events in blood transfusion.
Blood transfusions are typically executed in a hospital, doctor's office, or within other medical facilities. To be sure no mistakes are made, donated blood is always carefully tested to find out what blood type it should be recorded and marked as.
To ensure a smooth, safe and correct blood transfusion process, barcoded blood bands are being used to ensure the right patient receives exactly the right blood.
For example, Barcode Plus™ is being used by hundreds of hospitals as they help reduce the risk of mis-entering a BBID into the LIMS. This barcoded blood band comes in different types, such us Barcode Plus™ Handwritten (minimises data entry errors and fits more patients), Barcode Plus™ Label (the most convenient choice for hospitals with mobile phlebotomy system and bedside labelling) or Barcode Plus™ Condensed (requires no technicians' input to write down patient information).
To find out more how Typenex blood bands can help you with ensuring proper patient and specimen identification, click here. To place an order from within the UK, contact us here. If you're based outside of the UK, find and contact your nearest distributor by visiting our distributors' page.
< Back to blog list