Febrile Antigen Kits
---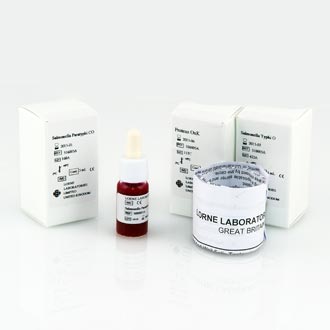 Febrile Antigen Kit
Lorne Lab's stained Febrile Antigen Kit consists of stained bacterial suspensions for the detection of fatal common infections including certain Salmonellae, Richettsiae and Bruchellae pathogens.
The reagents consist of killed and stained febrile antigens which agglutinate when mixed with human serum samples containing the corresponding antibodies are suitable for both slide and tube agglutination techniques. The Kit is suitable for the qualitative and semi-quantitative detection of antibodies which means that the tests may be performed to detect the presence of the antibodies in event of an infections but also to measure a rise or fall in antibody titre.
Febrile Antigen kit consists of 8 vials x 5ml containing a different a bacterial antigen suspension each (Salmonella Typhi H, Salmonella paratyphi AH, Salmonella paratyphi BH, Salmonella paratyphi CH, Salmonella Typhi O, Salmonella paratyphi AO, Salmonella paratyphi BO, Salmonella paratyphi CO) and also 2 Control reagents (1ml of Positive Control and 1ml of Negative control). The reagents of the kit are stained to enhance the reading of the agglutination tests, making the febrile antigen kits the most efficient test kit when dealing with Salmonellae, Brucellae or Richettsiae type infections.
Lorne Labs also manufacture and supply Rose Bengal staining tests which is a simple and popular way to detect anti-Brucella antibodies in human and animal serum. All of our test kits are easy to use, have a long shelf life and provide fast results to allow screening for a particular disease. Can be used with the rapid slide technique, slide titration technique or tube methods against human sera.
How Lorne's Febrile Antigen Kits work
The antigens are suspensions of killed bacteria, stained to enhance the reading of agglutination tests. The blue stained antigens are specific to the somatic "O" antigens and the red stained antigens are specific to the flagellar "H" antigens.
Suspensions of Proteus OX2, OX19 and OXK are used to detect rickettsial antibodies. Rose Bengal is a slide agglutination test for the qualitative and semi-quantitative detection of anti-Brucella antibodies in human and animal serum. The stained bacterial suspension agglutinates when it is mixed with samples containing specific IgG ro IgM antibodies present in the patient sample.
At Lorne we manufacture and offer several Febrile Antigens for use of medical professionals with bulk reagents available for a number of products.
For further information or to place an order from within the UK, contact us here. If you're outside the UK, find and contact your nearest distributor by visiting our distributors page.
Brucella abortus
Code: 518005A
Code: 518000A

Size: 100 Tests
Size: 1000ml

Brucella melitensis
Code: 520005A
Code: 520000A

Size: 100 Tests
Size: 1000ml

Febrile Antigen Kit
Code: 532040A

Size: 8 x 100 Tests

Febrile Antigen Kit + Controls
Code: 532042A

Size: 8 x 100 Tests and 2 x 1ml

Febrile Negative Control
Code: 537001A

Size: 1 ml

Febrile Positive Control
Code: 536001A

Size: 1 ml

Proteus OX19
Code: 524005A
Code: 524000A

Size: 100 Tests
Size: 1000ml

Proteus OX2
Code: 522005A
Code: 522000A

Size: 100 Tests
Size: 1000ml

Proteus OXK
Code: 526005A
Code: 526000A

Size: 100 Tests
Size: 1000ml

Rose Bengal
Code: 155050A

Size: 50 Tests

Salmonella Paratyphi AH
Code: 504005A
Code: 504000A

Size: 100 Tests
Size: 1 Litre

Salmonella Paratyphi AO
Code: 512005A
Code: 512000A

Size: 100 Tests
Size: 1 Litre

Salmonella Paratyphi BH
Code: 506005A
Code: 506000A

Size: 100 Tests
Size: 1 Litre

Salmonella Paratyphi BO
Code: 514005A
Code: 514000A

Size: 100 Tests
Size: 1 Litre

Salmonella Paratyphi CH
Code: 508005A
Code: 508000A

Size: 100 Tests
Size: 1 Litre

Salmonella Paratyphi CO
Code: 516005A
Code: 516000A

Size: 100 Tests
Size: 1 Litre

Salmonella Typhi H
Code: 502005A
Code: 502000A

Size: 100 Tests
Size: 1 Litre

Salmonella Typhi O
Code: 510005A
Code: 510000A

Size: 100 Tests
Size: 1 Litre