Enzymes, Potentiators & Accessories
---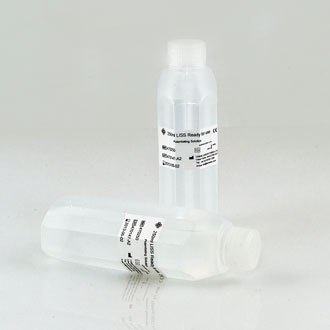 Lorne Labs supply and manufacture range of Enzymes and Potentiators including PBS, LISS and Albumin as well as accessories used in blood-grouping including cardtiles and storage solutions.
Enzyme types and uses
Enzymes are commonly used for antibody identification, particularly in the Rh system and are useful for where it is suspected there is a mixture of different antibodies. The Enzyme method for antibody testing aim to detect weak antibodies in a blood sample by increasing the strength of reactions of the antibodies with Potentiators.
Lorne Laboratories' Papenzyme Plus is a ready to use liquid preparation of stabilised papain, an enzyme found in the fruit of the Papaya plant. It destroys certain blood group antigens, notably M, N, S, Fya, Fyb and Xga, a property that may be useful for identification and separation of a mixture of antibodies. Bromelite is a preparation of stabilised Bromelain enzyme, derived from the stem, fruit, and juice of the pineapple plant and is used for blood group antibody investigations.
It is thought that treating red blood cells with enzymes results in the release of sialic acid from the red cell membrane, which causes a decrease in the zeta potential (a cloud of negative charges surrounding the red cell) of the red blood cells which allows the red cells to come closer together. It is suggested that enzymes also remove hydrophilic glycoproteins from the red cell membrane which makes the red cell membrane more hydrophilic and also causes the individual red cells to come closer together. Finally, with the removal of glycoproteins from the red cell membrane, there are less steric hindrances so it is easier for antibodies to react with antigens on the red cell membrane. The combined effect of the aforementioned enables the Serologist to detect weak antibodies more readily.
Potentiators and Accessories
Lorne Labs also manufacture and supply a range of Potentiators including LISS (Low Ionic Strength Saline), PEG and Serological Albumin (22% and 30% concentrates). Potentiators are used in blood banking procedures and are widely used in clinical laboratories for the detection or quantitation of antibodies or antigens. Potentiators the in vitro test environment in such a way that it increases the rate of antibody uptake in the initial stage of agglutination.
Our range of serological accessories include cardtiles suitable for a range of haemagglutination tests, latex cardtiles which are suitable for all types of latex agglutination tests, as well as mini pipettes and vials for safe sample storage.
Lorne Labs also manufacture sturdy Blockfile and Slidestak boxes for storage of histology boxes and microscope slides which remain upright in the box, providing economical long-term storage.
For further information about our Enzymes, Potentiators and serological accessories or to place an order from within the UK, contact us here. If you're outside the UK, find and contact your nearest distributor by visiting our distributors page.
Bromelite
Code: 443010
Code: 443000

Size: 10ml
Size: 1000ml

Buffered Saline Tablets
Code: 490025
Code: 490250

Size: 25
Size: 250

Cardtiles
Code: 880100

Size: 100

Latex-Cardtiles
Code: 880130

Size: 25

LISS Concentrate
Code: 460500
Code: 460025

Size: 500ml
Size: 2500ml

LISS Ready for use
Code: 470020
Code: 470250
Code: 470025

Size: 20x250ml
Size: 4x250ml
Size: 2500ml

LISS-ADD
Code: 480010
Code: 480000

Size: 10ml
Size: 1000ml

Mini Pipettes
Code: 044500

Size: 500

Mini-Cardtiles
Code: 880120

Size: 25

Papenzyme-plus
Code: 441010
Code: 441000

Size: 10ml
Size: 1000ml

PEG-ADD
Code: 485010

Size: 10ml

Plastic Distribution Trays
Code: LAB00027
Code: LAB00007

Size: 5 x Vial Tray
Size: 10 x Vial Tray

Product Vials
Code: LAB00002
Code: LAB00036

Size: 5ml
Size: 10ml

Serological Albumin 22%
Code: 451010
Code: 451000

Size: 10ml
Size: 1000ml

Serological Albumin 30%
Code: 452010
Code: 452000

Size: 10ml
Size: 1000ml

The 'Brighton' Slidestak
Code: 881025

Size: 25 Boxes

The 'Essex' Blockfile
Code: 882025

Size: 25 Boxes