Red Cells (Reverse Grouping & Coombs)
---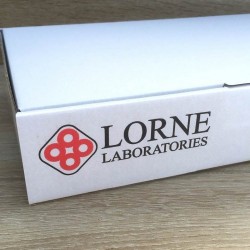 A range of Reverse Grouping and Coombs cells in full compliance with UK Red Book Standards.
Lorne Labs supply a range of reverse grouping and coombs control cells which are in full compliance with UK Red Book Standards and are used in pre-transfusion testing. We can also supply other red cell products including Papainised red cell panels, as well as the listed product range below.
Reverse Grouping Cells
Grouping cells are made from red cells which have been washed to remove blood group antibody traces and are resuspended in a preserving solution.
Lorne Labs supply Reverse Grouping Cells A1 + A2 + B + O and Reverse Grouping Cells A1 + A2 + B as well as A1+ B Reverse Grouping cells and A2 Reverse Grouping cells.
Each vial of A1, A2, and B Reverse Grouping Cells contains either 3% or 0.08% red cell suspension derived from the blood of a single donor. In reverse grouping, a persons' serum sample is added to Reverse Grouping A and B red blood cells. Antibodies in the person's serum should agglutinate the Reverse Grouping cells that express antigens that the person's red cells lack.
Reverse blood grouping can be performed with the tube and slide method.
Lorne Laboratories supplies Reverse Grouping cells to organisations across the world including NHS Blood and Transplant. Our papainised reagent blood cells are supplied to screen plasma and serum samples to detect regular anti-erythrocytic antibodies and are available as a special standing order.
What are Coombs Control Cells?
Coombs Control Cells are a red cell product supplied by Lorne Labs which ensures that AHG tests with a negative result are not false negatives and AHG reagent was not omitted or inactivated. The cells are commonly used in Coombs tests, AGT, or Antiglobulin tests using microarray and gel technology.
The two types of Coombs Control Tests; Direct coombs control test and indirect coombs control test.
Lorne Labs Coombs Control Cells have a shelf life of 30 days, and the cells are made up of either 4 or 0.08% suspension of single donor group O red cells. All Coombs Control cells have been sensitised with IgG to confirm a sensitive and reliable indication of negative antiglobulin tests by demonstrating the anti-IgG activity of the AHG reagent used in the test.
Get in Touch with Lorne Labs
Lorne Labs are leading manufacturers and experts in blood grouping and transfusion, our high-quality red cells are manufactured in full compliance with the UK Red Book Standards.
For further information about Lorne Labs Coombs Control Cells and Reverse Grouping Cells or to place an order from within the UK, contact us here.
If you're outside of the UK, find and contact your nearest distributor by visiting our distributors page.
ABO Preservacell
Code: 981500

Size: 500ml

Alsevers
Code: 983000

Size: 1000ml

Coombs Control Cells
Code: 970010

Size: 10ml

Identicells
Code: 960050

Size: 10 X 5ml

Maxi-Screen 3
Code: 950030

Size: 3 x 10ml

Preservacell
Code: 980500

Size: 500ml

Red Cell Elute
Code: 930110

Size: Kit

Reverse Grouping A1 + A2 + B + O Cells
Code: 910040

Size: 4 X 10ml

Reverse Grouping A1 + A2 + B Cells
Code: 910030

Size: 3 X 10ml

Reverse Grouping A1 + B Cells
Code: 910020

Size: 2 X 10ml

Reverse Grouping A2 Cells
Code: 920002

Size: 1 X 10ml