Biomixers & Biosealers
---
Our Biomixers offer a complete system for blood collection and data registration with the option of adding barcode readers. We have an extensive range to suit your needs and have been distributing Biomixers and Biosealers for almost 20 years.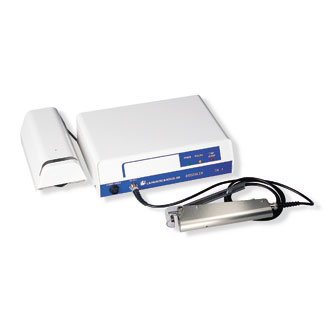 For further information or to place an order from within the UK, contact us here. If you're outside the UK, find and contact your nearest distributor by visiting our distributors page.
Biomixers
Biomixers are electronic blood collecting mixing devices developed by Ljungberg & Kögel. The Biomixer is an automated blood mixer used during blood donation to mix donated blood with anti-coagulant found within the blood bags and weigh blood during donation to identify when the correct quantity has been taken. Once the volume is reached, an automatic tube clamp closes the donation tube to prevent donations exceeding the capacity of the bag. The Biomixer also allows registration and collection data to be transferred to a PC for storage and registration, with a built in or optional barcode reader enabling donors, bags and operators to all be registered and tracked properly.
Lorne Laboratories supply two models of Biomixer, The 323-1 and 330-1, upgrades of the BM323 and 330 respectively. These blood collection machines include scales and mixing functionality used in blood donation and transfusion, with notifications and gentle mixing actions performed at repeated intervals during collection. Both models are compatible with all bloodbags on the market, making them suitable for global use. The Biomixer 330 can be ordered with or upgraded with the XBee module for wireless transmission of registered and collected data, with the Biomixer 323 connecting to USB or specialist ports.
With up to 10 hours operation on battery power and an included mains power supply, the Biomixer blood collecting devices are suitable for permanent, stationary or portable usage. Most functions including check of blood flow and collection time, counterbalancing and calibration are performed automatically, so donations are more efficient and staff can focus on donor welfare.
Ljungberg & Kögel Biomixers are Class 1 Medical Devices and CE marked for 93/42/EC Directive. To request a quotation, to identify the best model for your needs or for further information please contact Angela@lornelabs.com.

Biosealers
Biosealers are built for sealing blood bag tubes and other PVC and EVA tubs commonly found in plasmapheresis sets. Lorne Laboratories distribute the Biosealer CR4 and CR6 models, manufactured by Ljungberg & Kögel and consisting of a Power Unit and Bench Unit or Manual Sealing Handle. Lorne Laboratories provide each of these individually or as a combined device.
Biosealer Power Unit
There are three different power units which all automatically adjust their sealing time between 1 and 2 seconds to suit the tube being sealed. These power units are:
CR4 AA – powered by mains network so most suited to permanent / stationary usage. The CR4 AA can be connected to one Handle Unit and one Bench Unit or two Handle Units (explained below).
CR6 AA and CR6-PS AA – powered by battery to enable portable sealing of tubes in donation units or temporary facilities. With new fully loaded batteries the CR6 AA can seal over 1000 PVC and EVA tubes on one charge, with the CR6-PS AA able to seal 500. This makes it suitable for use in donation rooms, laboratories and mobile contexts. Both models can be connected to one Handle Unit or one Bench Unit. The CR6-PS is the Pocket Sealer, designed to be as mobile as possible and easy to carry in a pocket or over a shoulder. An included battery charger and light weight of just 1.3kg including batteries means the CR6-PS can be used wherever required.
Biosealer Bench Units and Sealing Handles
Sealing of the blood bags or other PVC / EVA tubes is performed by an automated Bench unit, Handle unit or sealing handle.
Bench Unit – The bench unit automatically seals the tube when inserted into the tube inlet. High frequency RF energy is transferred from the power unit to the bench unit via a coaxial cable, whilst the signal cable is used to start the seal upon insertion of the tube. An indication lamp automatically comes on when sealing is in progress and turns off upon completion.
Handle Unit – A manual sealing handle can be used to seal tubes, operated by hand to fuse the tube using electrodes. These handle units are available in two designs. The Ergonomic Sealing Handle is designed to be user friendly and intuitive, with a trigger mechanism, spiralised cable and low weight to avoid fatigue. The Handle Unit is a robust desk or table top unit which requires a lever to pressed down to combine the electrodes, both offering controlled and consistent performance when repeatedly sealing blood bag tubes and other PVC and EVA tubes.
Ljungberg & Kögel Biosealers are Class 1 Medical Devices and CE marked for 93/42/EC Directive. To request a quotation or further information please contact Angela@lornelabs.com.