Our Top 4 Diagnostic Kits Explained
22 June 2015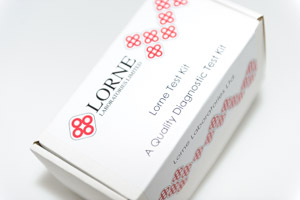 In the medical sector, diagnostic tests are used in the detection and diagnosis of diseases, whether it is to confirm the diagnosis of a disease or eliminate the disease possible causes of the illness of the patient.
At Lorne Labs we currently supply 4 different diagnostic kit types to help you diagnose a range of diseases.
Latex Kits
There are many types of latex kits supplied by Lorne Labs, but currently our most popular is our CRP Latex Kit.
A CRP Latex test is used for the measurement of C-reactive proteins (CRP) in a patient's serum. When a person is injured or ill, the amount of C reactive proteins can rapidly increase in the person's plasma. This makes the measurement of CRP vital for patients susceptible to illness.
The kit itself is based upon the latex agglutination assay, which has a quick reaction time of 3 minutes.
Syphilis Kits
The TPHA Microtitre Plate kit is our most popular syphilis testing kit that we distribute.
The test consists of detecting antibodies to T. Pallidum.
The test cells are preserved avian erythrocytes that are coated with antigenic properties of pathogenic T. Pallidum. The control cells then detect any non-specific reactions and absorb them out. This leaves antibodies to be absorbed by treponemes in the cell suspension.
Febrile Antigen Kits
Our salmonella paratyph BH kit is our best selling febrile antigen kit.
Paratyphoid B is most common in Europe with symptoms being severe gastroenteritis. The test is designed to detect certain salmonella, richettsiae and brucellae pathogens by staining them a colour to enhance the reading of agglutination tests.
Turbidimetric Kits
At Lorne Labs our top turbidimetry kits are our CRP Turbi-kits and our RF Turbi-kits.
The CRP turbi test is a quantitative immune-turbidimetric test for the detection of C-reactive proteins within the human serum or plasma.
The RF turbi test is also a quantitative test but is measuring the rheumatoid factor in the plasma.
Take a look at all our Diagnostic kits here.
We also supply more niche kits such as the Rose Waaler kit to help detect Rheumatoid Arthritis.
At Lorne Labs we are proud to be able to supply high quality Diagnostic kits to medical professionals around the world.
< Back to blog list